Photo with 7 notes
Don't Commute.
Anywhere. You'll regret it, anyway.
Post with 11 notes
Six Months of InTentCity #M17
OLA Flash occupation & street festival
12 PM Saturday March 17, 2012
Solidarity Park at 100 W. 1st Street
Help us create a world where all may thrive


It's been six months. A sigh escapes my lips as I gaze into an empty Solidarity Park. It feels Jurassic. It's nearing midnight in a desolate downtown LA, and I'm contemplating some tired ferns and ghostly mist. This isn't a public square, it's an exhibit. Where are the dinosaurs and monsters that once roamed downtown Los Angeles? Where are the psychedelic freak shows and the legions of determined youth in Guy Fawkes masks? The yoga instructors, the People's Collective University guest professors, the pot activists, the spirited drum circles and breakout discussion groups and consensus pizza games… where are they?

The rational side of my brain knows the answer as I look to where Star Tribe used to make camp. All that remains is a scrawled anarchist "A" and a forgotten bicycle tire still locked to the City Hall grate. I remember when City Hall was more than just cold stone and rows of tired flags. I remember when City Hall was alive. Do you?

Before there was the Fascist Fence, there was Love Tribe and Kids' Village. Before there was police tape and intimidation patrols, there was a bucket of humanity splattered around the seats of power in Los Angeles. Ninety-niners from all walks of life came to Solidarity Park for what is was - both real and imagined. It was a haven for the downtrodden, where basic medical services and food were provided free of charge. It was a boisterous declaration of what could be better, and it was fought for by handing out delicious organic carrot juice or painting a magnificent purple vampire octopus or by living in a fucking tent for sixty days.

It's been six months. The perspective on that time frame is hard to judge, especially since my pocket watch doesn't tell time. A cherished gift from a loved one, the timepiece is engraved with my initials and the words, "An Occupier of the People's Evolution - 10/1/11" The damned thing hasn't kept time since I received it - which is exactly how a revolutionary watch should be. There is no winning or losing the revolution, there is only the struggle, which is ongoing.

The false urgency the mainstream media shoves down your throat doesn't matter. The election is a farce, that's why we began occupying in the first place. The only true urgency can be found in the wisdom of a fellow occupier. When asked what his demand is, he replied, "Come outside." We have an urgent and immediate duty to come outside and occupy space. We must be visible, we must speak truth to power, and we must come together.

It's been six months. Six months since those brave few in Manhattan pitched tents and planted black flags for freedom. But its also been years for the Egyptians, decades for the Palestinians, and centuries for indigenous peoples and our comrades of color. This oppressive system is not simply going to roll over and die. We must smash it.

In these few months we've seen the sophomoric debt ceiling argument fade away to be replaced by mentions of capitalism and income inequality. We've witnessed tens of thousands take the streets. We've had the pleasure to facilitate over a million people move their money to credit unions and pressured Bank of America into hastily reversing their $5 debit card fee. In just six months, millions of Americans have been shocked awake to the gross realities of illegal foreclosures and police brutality. What comes next in this revolution?

It's up to us. The rollercoaster of activism is filled with joys and miseries, victories and setbacks. Luckily for us, this revolution is also sometimes blessedly funny. It's funny because there will be cuddle puddles and safety breaks at this festival. Emma would be proud because this revolutionary festival also has dancing, courtesy of DJ M1GS and all you movers and shakers out there. This revolution has tasty vegan food, courtesy of volunteers in our Food Committee and Food Not Bombs. This revolution has truth, courtesy of teach-outs and OLA's Freedom School. The revolution will not be televised… you've got to Come Outside.

We're still here, and we're growing. This Saturday, Spring is here.  

Post with 8 notes
A
fter coming back from the Walmart Shutdown I was reminded of Argentina.
In Argentina, where the people took command of many highways for weeks, every driver who wanted to, could make her/his case in front of the impromptu "intersection GA," explaining why he should be given permission to pass. Then, the GA would discuss it until it would arrive to consensus. If a consensus was not reached, the driver would not pass. I happen to be in a public bus crossing that people's picket line. We waited for about an hour and we were given permission to cross. Some trucks had been there for days. Some drivers where given permission to pass after 6 hours of deliberation, some after 6 days, and some were turned back.
W
hen we shout, "Who's streets? - Our streets!" we mean we, the people, have the power to stop or to let pass vehicles as we see fit. This world is our world, these roads are our roads, the decision is our decision. We the people are policing (making a policy) the intersection as a collective. Our personal opinion is relevant only as a brick in the collective consciousnesses.


S
o exerting our people-power does not mean a dogma in which nobody passes. It means that we (the collective of the people who took-over the intersection) decide via our direct democracy body (the GA) who passes and who does not. And if we as a collective can't come to a decision, the driver waits. The people in the cars wait for the people's decision. Our roads, our streets, our world. This is what democracy looks like.


Y
esterday at Walmart in Mira Loma was a far cry from that direct democracy I saw in Argentina.
When a truck approached our picket line, we blocked it, but when the driver came down to plead with us to let him pass – all hell broke loose. Most people completely ignored the driver, some came to talk to him, and yet others yelled out-loud that "no matter what he says, we should not let him through."
As the driver explained that he might be fired if he does not let go, and show us that his truck was empty I heard people yelling, "well if he will be fired he can join Occupy." A group of us was trying to organize a "mini GA" around the truck; however, while we were discussing the situation, the driver used the chaos to pull into an adjacent parking lot and sped away.
W
e must recognize that our people are a product of our individualistic competitive culture of capitalism. Many of us had never experienced "community" till the occupation. We are not racist or sexist, although we all may have these tendencies - after all we all breathe the air of a country that was founded on the annihilation of indigenous people and the enslavement of Africans. Yet, we are the only people we have; we are the people who stood in the trenches yesterday at Walmart.
We are the people who stand and speak at the GAs. Like it or not, our comrades are a product of capitalism (just like we are) but something in their hearts cries freedom; something in their hearts wants to release the racism, the sexism and the privilegism; to throw away the burden of colonizer-consciousness and to be free in a new and just society. That is why we all have join the Occupy movement and that is why we all came down to shut down Walmart. And like it or not, they/we are our comrades, they/we are the ones we must educate and radicalize for a new world to come forth.
I
ncidents like the ones at McArthur Park ("parachuting" into a community) and Walmart come about not only to show us that the colonizer-consciousness is still within us, but also to help us purge it, clean it, release it. Only via such incidents can we grow as a movement. We must accept that we are an "experiment in progress" (that is how the Zapitistas call their autonomy), and as such we will stumble time and again. But as long as we are able to admit our stumbles, to remember that we all are a product of capitalism trying to create something which is totally unlike capitalism, as long as we do not call our comrades names but instead educate and support each other in our stumbles and growth -
another world is not only possible, it is inevitable.
Post with 9 notes
From Occupy Congress:
Just to let everyone know, the antisocial occupy La media group has put an attack out on us… Here is the link.
http://ola-asm.tumblr.com/post/
18077424025
/occupy-congress-a-festering-pile-of
The price of transparency… just be ready for stuff like this. I wish they would comment on our listserv with their grievances instead of publicly attacking us… Does anyone have any info in this? I know someone from OLA media is on here. Do you have any comments about it? Is antisocial ola media a part of you?
——-
a response:
————— Forwarded message —————
From: Occupy AntiSocialMedia <occupyla.antisocialmedia@gmail.com>
Date: Wed, Feb 22, 2012 at 12:18 PM
Subject: [OccupyCongress] AYBABTO
To: occupycongress@listserve.occupyyourcongress.info
so we called you out. now what? 
you represent the epitome of redundancy. there are myriad organizations doing exactly what you are doing (talking about getting money out of politics) - they just don't have the temerity to call themselves "occupy" (yet.) why do what is already being done?
why are you involved in occupy? ask yourselves that question. if there are hundreds (literally) of organizations doing precisely what your latest "letter of intent" prescribes - what good are you serving by duplicating their own efforts, by diminishing their numbers, and by dividing those that already seek what you are plainly seeking?
we participated in occupy because it captured the imaginations of people in this country - including ourselves. because doing something outside the preferred channels of acceptable dissent - by means of physical, 24/7 occupation - inspired us. because only through constant struggle will we ever succeed in redressing our real grievance: capitalism.
did you "occupy" because you merely saw it as yet another opportunity to defend your ever-shrinking, liberal privilege? because you saw an opportunity to project yourselves into yet another movement, but this time, to set yourselves up in positions of 'leadership' within that movement by occupying key, choke-points within the horizontal structure? is that why it seems all those who adore occupy congress and participated therein are media members - driven as they for personal glory and further adoration of the self?
how do you "stand in solidarity" with Occupy? because one principle facet of occupy seems, to us, to have been practicing different methods (in fact, vigorously attempting to always participate in the struggle in ever more dramatic ways) to inspire others to act towards significant (note: not incremental) change. 
it's not about the message. the message has been said, and is being said, by many millions before us (and concurrently with us) around the world. it is about encouraging new means of participation in the decisions being made that impact us all. it is about inspiring the 99% to realize that voting, that signing petitions, that sending new candidates (themselves tainted by lobbyist influence) to congress is not enough. it can never be enough. it is the province of coddled liberals who want - rather than real change - the restoration of their unearned privileges granted them by the elite. 
if glass steagall was restored, would you still "occupy?" if the buffett rule was enforced, would you go back to your day job? if SOPA, PIPA, and ACTA were all consigned to failed legislation of yore - would you be pacified? what change do you want? 
we at olaasm are pretty sure there is no magic bullet. no single reform congress could do, and no sequence of reforms it could provide, that would achieve what needs to be achieved to end neoliberal, zombie capitalism and its violent quest for ever more brains to feed on. yet you persist? if you appeal to congress for change, you are appealing to a body so wholly in the service of the most vile system created by man, to assuage the comparatively minor inconveniences you now see as a result of the natural progress of capitalism itself. congress will not, can not, fix this.
petitions, rallies, marches, etc. these things doubtless have their place. in fact, they are being done by millions of people every day. millions of people vote for those in congress itself. and what of it? what has come from this stultifying, staid, and systemically-sanctioned method of participation? why promulgate more of the same? could your valuable time and labor be better spent conceptualizing new, unique and inspiring ways to participate in this struggle? or by participating in those manners collectively embraced by your brothers and sisters at general assemblies across this country?
but you're "too tired" to go to ga's? gtfo.
it seems to us your victory would be merely to elect more corporatist-capitalist parasites who merely parrot the memes you people propose? get money out - so what - wouldn't the corporations would just hire their own mercenary armies to defend their interests worldwide? 
face it - the nation-state as we have known it is dead. your congress doesn't have nearly the power of your monsanto/xe. this is the capitalist dystopia we live in. it's time to start dealing with reality.
realize that these things, these reforms, are doomed to failure, because they are the very ways the system itself wants you to participate. why do what the system wants you to do? why settle for your free-speech zone and your online petitions? why even muddle the message with such plainly doomed claptrap?
the system can suffer such participation. it encourages it. it doesn't care when its fax lines and phone lines are clogged. it doesn't care when you write a blog about it. it doesn't care when you tweet. it doesn't care when you change your facebook status. it get scared, however, when you challenge it in the streets. when you stop working for it. when you stop supporting its endless march around the world. and it sets its dogs upon you when you do.
realize that the reason the state cracked down on the physical occupations was because they represented a sustained, physical presence that threatened the status quo. de-gentrification of public space put the plight of comparative poverty in the face of all the capitalists and their servants in government - and they shuddered. they just want to practice their racist, sexist, anti-gay, capitalist status quo built on the exploitation of others without any guilt. and writing them an email isn't going to challenge them.  
even if you reformed congress, even if you had everything you ever wanted - better wages, a better american economy, a congress that wasn't entirely bought and sold by global corporations, a world much like the global hegemony americans developed in the post-war world - you would merely be foisting yet more exploitation on our brothers and sisters in other regions of the world who would have to shoulder the workload necessary to afford you your consumerist, debt-driven comfort.
you just wouldn't have to see it. and you'd be free of your guilt. but the suffering of our brothers and sisters globally will not be allayed by the elites in the us congress.
Photo with 29 notes
Spring is Coming. | Occupy May 1st General Strike 
Post with 14 notes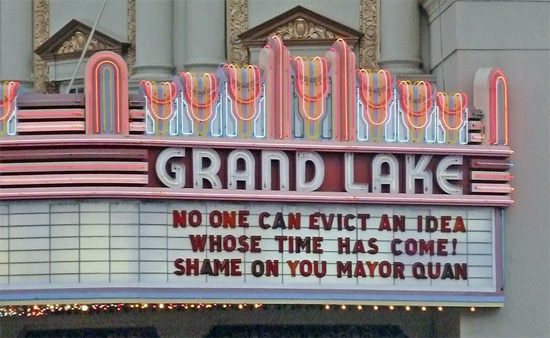 My involvement in the Battle Against the State of Oakland had its roots from the aftermath of the Regents meeting at University of California, Riverside. The day that followed was coincidentally an intensely emotional experience, as we sat in our tents on the lawn of UCR, recovering from the battle we waged with the Regents, UCR police, and Riverside Sheriffs.
That day we discussed how in each of our lives the state had either violently interfered to escalate a situation or had failed to provide the support we desperately needed. We thirsted to change the system which had oppressed us for so long.  We were hungry to reformulate our lives, each other and our community. It was that early afternoon, that one of us stumbled upon news of a library occupation at Cal. 
 
By the time we arrived in Berkeley, the library occupation was over. Instead we decided to roam the Bay and learned about Oakland's Move-in Day. The Bay Area is tragically beautiful; it is a swift breeze of salty refreshment from Los Angeles. We couldn't stay away… and that is how we ended up in urban warfare and I ended up in jail. 
 
The morning of Move-in Day, I woke up thrilled at the prospect of helping Oakland take a building to transform it into a community center. We had spent the night at our comrade's apartment in Berkeley. All thirteen of us crammed into a tiny studio. 

We left at about 10:30am to arrive early for a quick meet-up with our other comrades from Los Angeles. The sun shone brilliantly, promising a gorgeous day in Oakland. At 11am, people had just begun to gather. Final touches were put on signs. Art supplies were organized. Food was loaded to be used later for the dinner at our new building. We had proclaimed a whole schedule of events for the day at the building we hoped to take. 

Before the rally even started, there was an arrest. Police grabbed someone from the crowd. We formed a circle around them, chanting "the whole world is watching" "let him go" and "fuck the police." Police responded aggressively and pushed protesters with their batons. It was still early, and already the tone was set for the day. Thank you, Oakland Police.


After the rally at about 1pm, we took the streets. We spilled out from Oscar Grant plaza and to the corner of Broadway and 13th. Some of us in the crowd held shields with spray painted peace signs. Others held three large corrugated shields with spray pained messages: "Oakland Commune," "Commune move in." and "Cops move out." It was a defense; November 2nd and Scott Olsen was still a recent painful memory. The image that circulated the Internet of his cracked, bleeding head was still freshly imprinted in my mind. I did not want to be tear gassed. I didn't want to be hurt or killed. But I sure as fuck did not want to continue to live in this oppressive world.

To take the streets always feels liberating. My heart pounds, my smile lifts, as we march through Oakland. Behind us are mobile speakers and a large truck. Music is all around us. We are joyous. We are the people and collectively we have power. It vibrates within us, we are young, beautiful radicals and we will change the world.

The police follow us. They are ready to control us. It is their job. They do it so well; their consciousness was beat out of them a long time ago. 

The decision to march through Laney College is made. The pathways are narrow, we slow down, we lose the music truck. I have no idea where we are going. Someone shouts out a suggestion to occupy a building at Laney. We keep walking and stream into greenery and a lake.  

The police stand in a line, blocking us from leaving Laney. As usual we face off with the police, then walk around, across the bridge and emerge to see the first building we want to take. The fucking Kaiser Convention center. It is a magnificent building. It would have made a wonderful community center.


As we walk the perimeter of the building, the police are already lined up around it. The fence is torn down. I am in awe, I am pregnant with hope. When the first canister hits the ground, I am talking to my friend. I hear her scream. I think it's tear gas and I prepare myself for stinging eyes. I have not experienced tear gas, I'm not sure what to feel. Nothing happens, more canisters, more flashes, more screams, and people rush the fence opposite the building, knocking it over in a mad dash to escape the smoke that we all believe is tear gas. It's not. They are smoke and flash grenades. My friend disappears in the crowd. I look for my comrades to ensure their safety. 

The police draw their paintball guns. I am standing behind one of the barricades. They point to us. Bile piles into the back of my throat. I am their enemy. Through their megaphone they announce that the "State of California" declares us an unlawful assembly. I have lost count on the number of unlawful assemblies I have been a part of since October. I am an assembly, I am peaceful, I am here because this is my world and I want to change it. They don't care. We duck behind the barricade, unsure of whether they will fire, whether we should stay. 


The crowd begins to trickle out. The police presence is heavy. The situation is impossible, the people are not ready.

Our march moves to where the Battle of Oak Street begins. 

The Battle of Oak Street occurred in front of the Oakland Museum of Natural Science in the middle of the afternoon on a Saturday. This was not your usual battle zone. Another face-off with the police. The shields are asked to advance to the front. 


The shields advance, I stand behind them. All of a sudden, there are flashes everywhere around me and the street is filled with smoke. Car alarms erupt from all sides. There are yells and screams - "Medic!" My eyes start to burn, I can't breathe; my face is on fire. It is tear gas. I gasp for air and begin to retreat away from the smoke. A flash grenade explodes in front of me. I stumble to the sidewalk, and look up to see a dizzying array of families standing on the steps in front of the museum in shock. There are more whistles and shots. A heavy smoke hangs in the air. People are milling around in shock; many with Maalox and vinegar on their faces. The burning on my face continues but at the moment it doesn't matter. I am in shock. I am given a gas mask, which I slip on with shaking fingers. We return the front line. Then the police start to fire bullets. I huddle behind the shield. I can feel the impact of the shots as they hit our barricades. More tear gas. The gas mask is not tight enough; my lips are burning. We begin to retreat. 

Days later when I watch the youtube videos of the Battle of Oak Street, it didn't make any sense. It is so different to be on the inside, then it is to see it displayed from the outside. I have no perspective, it's all a hazy smoke; all I know is that we must put our bodies on the line against the police state. It is only by being fearless in the midst of fear that we can win. What else can we do when they start to fire at us? We are not violent; we want to change the dominant narrative of private property. The Convention building currently lies vacant, we want to turn it into a useful space for the community and the movement. We don't want to ask permission; this is a revolution - did Rosa Parks ask permission to not move? Did she check with her local police force before she committed her act of disobedience? At some point we must no longer obey because we are told to do so, we must do what is right. If the State responds violently, we must not back away, we must continue to fight; it is our duty. 

We return to Oscar Grant Plaza to recuperate. We are hungry. We are high on adrenaline. We are soldiers in the fight for justice and equality. It feels surreal to return to the sun, to sit, to laugh, to smoke a bowl. Was I just tear gassed? Are we doing it again?

My face still burns and I need to go the bathroom. I go with my comrades to find a restroom, which is almost impossible, as we go from business to business hoping someone will let us use their facilities. "Please, we were just tear gassed," we plead at a dentist's office. The workers look at us in shock, but refuse us. "It's part of the rules," the young man informs us firmly. Finally Oaksterdam allows us in. My comrade gives me some vinegar to put on my face to help with the burning. It soothes the skin and makes me feel ready to take the streets gain. 

We rest for almost an hour and then we take the streets. The sun sets; once it gets dark it will be that much harder.

We go to our second location, but the police are right behind us. First we are trapped at Snow Park. The police surround us on all sides. There is an order of dispersal followed by more tear gas. I find myself yelling, "Don't run. Walk. Don't panic. Walk" as  people push each other to escape the tear gas. 

But people are panicking. We take down the fence surrounding the green field in the middle of the park and run across it to escape the police kettle. We flow across the grass in a glee of liberation. We are free. The police cannot stop us. As my feet reach the pavement on the other side of the park, I realize I have won. The march continues down Broadway. I don't care where we are going now. The beauty of collective action envelopes me. We are the people. We are brave, we are united, we are together, we can do anything; they can't stop us. Collectively we are smarter, we are faster, we will always win. The rest of the march is a blur. I'm not sure when we were kettled again, but we were. The State and its guard dogs were done with us.


We are stopped in front of a YMCA. A handful of people get inside the YMCA and escape. The rest of us are pushed down the stairs and from the streets and into the sidewalk and the corner. Again screams, as we fall over one another, trying our best to not fall and to not trample. A  few minutes later the police announce, "You are all under arrest."

At first I don't believe it. There are hundreds of us pressed against this building. They can't possibly arrest all of us. Maybe they'll let us go.

We start to chant, "Let us go" and "This is illegal detainment." I have no idea where my comrades are. I hope that they are out. Instant solidarity forms with the people in my kettle. Strange conversations are happening around me, "I'm sorry I won't be home tonight. I think I am under arrest. Looks like I'll be going to jail. I'm so sorry," says the man behind me to someone on the phone. The woman next to me is indignant. "This is against the law. You can't detain me. I'll call my council members. Call the media," she yells out. But the State doesn't care. If we get out, it's because we're not worth it. In retrospect, ruminating on the events of the day, there was never a chance we would not be arrested. We threatened and twisted their authority all day long. In America that's not ok; we are not supposed to rebel. 

As the realization that we would be arrested sunk in, the weed and alcohol erupted. Massive blunts, joints, bowls, handles of alcohol are handed to me. The kettle turns into a party. It is liberating to watch them watching us; at least we have fun no matter what we do. There is nothing in the world more fulfilling than what we do and we all know it; we are free, as we are arrested.


It takes hours to arrest us. Later I heard that there were 409 arrests. We were kettled at around 7pm, I arrived at Santa Rita at about midnight. My plastic cuffs were so tight, I could not move my wrists for hours. My fingers lost all feeling and the bumps on the bus to Santa Rita were almost unbearable. When they finally remove the cuffs, I start to cry. 

I am released on Monday morning. I spent two nights and a day in a holding cell. Jail is violent. It is a violent violation of your soul. The experience of forced lack of freedom is powerful. It is also terrifying. At Santa Rita's detention center there are no blankets; the food consists of bologna, bread, an orange, two cookies, and a calcium drink; time is non-existent and you never know when you may be released. It is a horrific process which dehumanizes you as your curl up on a hard bench, hands pressed inside your thighs for warmth. 

Tears cloud my eyes when I see my comrades on the outside. The best thing about jail is the feeling of getting out. There is nothing better.

The revolution is a mix of victories and failures. For me it is already a victory because we are fighting. We don't always win the battles, but we face Goliath. But with each action our collective power grows. We did not take a building on January 28th, but we built something so wonderful and so massive that two weeks later I still cannot fully grasp it.
All I know is that it is absolutely fucking better than a building.
Post with 1 note
Fascifists like Tina Dupuy from Crooks&Liars (and others immersed in the careerist, "liberal establishment") have been falling over themselves to denounce, defame, and perhaps worst of all - propagate rumors and plain untruths - about the defensive tactics used by our comrades in Oakland to protect themselves from the militarized assault they endured on  "Move In" Day. These tactics (e.g. protective shields, hiding behind corrugated metal barriers, throwing canisters back (and, yes, sometimes other objects at heavily protected riot police) were deployed in response to the continued, exhaustively-documented and violent attacks deployed by the same thuggish brute squad that felled Scott Olsen. Remember, this is a department so devoid of legitimacy as a peacekeeping organization that they are likely to be place in Federal receivership. 
This shit is not happening in a historical fucking vacuum. Let Oakland be Oakland. And if #OO calls for mutual aid next time they try to provide social services their city either can't or won't provide, let's hope the aid the liberals provide won't be in the form of liberal-talking-head handwringing…
Of course, none of that matters to fascifists. This is a PR war, they remind us. All that matters is how the movement plays out on their televisions and livestreams. Not the struggle - that's secondary - we have to sublimate everything else, even our own bodily defense, to the so called "media narrative" this movement has never once had control over.
After all, don't we have to appeal to the mythical "99%" to generate change? No? Oh, then we should just use the tried and true "fear" tactic of neoliberals to control this movement, amirite?
It doesn't seem to bother these privileged liberal elites that "anarchists," "black bloc," and "violence" are not interchangeable terms, nor is the definition of "violence" in social movements completely theirs to dictate from their comfortable positions in center-left media circles. Furthermore, this debate is not new - and it's absurd to think it will be resolved by Occupy at all. Which is precisely why "autonomy," "horizontalism," and "diversity of tactics" are so crucial to its survival.
So, if you haven't heard, current disaffected-yet-still-staunchly-liberal superhero and retired Sprockets dancer Chris Hedges decided to add his own dehumanizing, lie-riddled rant to the mix. Tina Dupuy had already tried to force her liberal hogwash on others, and not a single fuck was given that day.
The do-nothings had to go for bigger, rhetorical guns:
Chris Hedges: The Cancer in Occupy - Chris Hedges' Columns - Truthdig http://bit.ly/xkVxDJ
Fortunately, occupiers actually on the ground in Oakland had already been discussing this topic before Hedges deigned to come down from his high horse and completely dehumanize anyone who wears black clothing at a protest:
What Lies Beneath the "Violence" Discourse | Hyphenated-Republic http://bit.ly/yWMetC
But it didn't matter to Hedges, who gave up any notion of journalistic integrity for his own sense of moral superiority and the commitment to the "catastrophe of public self-deception" long ago. He didn't read, study, or contact anyone on the ground in Oakland before he launched his assault. Instead, he "did listen to several hours of Anarchy Radio before [he] wrote this." We're all so thankful for your prodigious effort, sir!
But yeah, white dude, blame the victim - how fucking novel! Those protesters shouldn't have dressed so provocatively (there actually wasn't even a "black bloc" on Move-In Day - oh fucking well) if they didn't want to incur police state violence. Hedges basically says, "they got what they deserved, and it besmirches his movement": 
Letters and Politics - February 8, 2012 at 10:00am | KPFA 94.1 FM Berkeley: Listener Sponsored Free Speech Radio http://bit.ly/w04oll
Thankfully, the internet has a long memory. And the hive mind can be a beautiful thing - especially when it witnesses frauds being frauds. Hedges is one such fraud.
For example, Hedges recently wrote about Greece:
Chris Hedges: The Greeks Get It - Chris Hedges' Columns - Truthdig http://bit.ly/wGw1xN
Now, in an interview published today, Hedges says he wasn't commenting on the tactics employed in Greece. And he goes into some pretty amazing acrobatics to dismiss what he actually did say:
The article and the column lauded the Greeks for responding. It was not an article about tactics. You use the word "insinuate." That's correct. You would have to insinuate that I supported rioting, but I don't know how you can in the long history of everything that I've written.
Sorry, Hedges. You said, quite explicitly: "They know what to do when they are told their pensions, benefits and jobs have to be cut to pay corporate banks, which screwed them in the first place. Call a general strike. Riot."
Excise the standardized, progressive platitudes about pensions and jobs from that sentence and what you're left with is:
"They know what to do… call a general strike. Riot." Oakland has only done one of those. And it's not the one Hedges explicitly lauded as "what to do" when you get "screwed."
When one of our comrades at OLAASM discovered this - we tried to explain what it seemed Hedges was up to ourselves:
OLA AntiSocial Media - COLONIZER: A Postcolonial reading of Chris Hedges http://bit.ly/xhjVnk
But there are so many others in the world who have their own unique take on what Hedges' article means, why it should be denounced, and even why it could promote the very violence it assumedly intended to pacify. Here they are:
A topiary out of a hedge? We think so.
Link with 20 notes
From this blog regarding why HARM (Hoosiers Anti-Racist Movement) has withdrawn support from Occupy Indianapolis:
… we find Occupy Indianapolis to consist primarily of armchair activists and internet warriors who will never have more than their non-involved sympathies to offer.

Because this collection of various websites and social media pages are unaccountable to any general assembly and keep confidential the names of admins, they are in violation what might be the two core values of the Occupation Movement, namely transparency and horizontal structure.

Because Occupy Indianapolis has systematically alienated, disenfranchised, and censored radical voices both during it's physical occupation and via it's online presence it becomes clear that the occupation is not about compromise and consensus between disparate elements, but rather a hierarchical neo-liberal co-option of a movement in support of the status-quo.

Because online censorship has been focused on antifascist and radical voices rather than all "fringe" voices, Occupy Indianapolis has become a safe place for conspiracy-theories, antisemitism, racism, anti-worker sentiment, pro-sweatshop propaganda, and religious intolerance.

Because the dogmatic Pacifists have neutered any chance of direct action coming from the occupation, we find their to be no chance at revolutionary change stemming from Occupy Indianapolis's actions.
The parallels to the situation at OccupyLA (especially occupylosangeles.org) and the "Social Media Committee" therein are frightening. Is it only a matter of time before people withdraw their support from #occupyLA due to similar concerns here? Is OLA Social Media and Web killing this movement, locally, as HARM is implying those at OccupyIndy are doing there?
Stay tuned…
Video with 56 notes
Police Violence at UC-Riverside, Regents Meeting, January 19, 2012
"Shame on you! Shame on you! Shame on you!"
IN this video, you can plainly see the police initiating contact with protesters who are not advancing in any way, who are struck with police violence, and who then bring in a barricade to put between themselves and the police aggressors. The protesters also sit down to show they are peaceful and are not advancing or threatening the University police force - who is bolstered by the Sheriffs. Obviously, the Sheriffs thought the Unipolice were overmatched and stepped up, but were repelled by the arrogant uni cops - who then showed how they had control… with indiscriminate violence…
The amateur, unprofessional, aggressive, violent University police unleashed a hail of rubber bullets into the crowd, hitting students and inciting panic and outrage which only escalated the confrontation and served no tactical purpose… students weren't advance and so weren't rebuffed, there was no dispersal order, and the police acted unilaterally with violence against the students of UC-Riverside…
This is a fucking shame…
Post with 18 notes
"To be truly radical is to make hope possible rather than despair convincing."
- Raymond Williams
It has become fashionable in some quarters within the Occupy movement, particularly in Los Angeles, to deride others as "radicals," to decry them - quite publicly - as something "other" and outside of "us," as it were. Sometimes, this nefarious practice even goes so far as to suggest that radicals are more than that - they are police infiltrators or "provocateurs."
It has become commonplace within OLA to toss this word - radical - around as if applying that label to someone, in and of itself, may serve to mitigate their influence or even to dismiss their suggestions altogether. In light of this, it has become imperative that we come to an understanding of what, precisely, it means to be a radical in the United States in 2012.
 

Let's start with a working definition of the word itself. Angela Davis once noted, "
radical simply means "
grasping things at the root
." Davis wasn't making some esoteric point about so-called "radicals," she was actually paraphrasing the dictionary definition of the word itself:
adj
\
ˈ
ra-di-kəl\
1
: of, relating to, or proceeding from a root 
The word
radical
made its way into the English language, as so many words did, by way of Latin
. In fact, to further demonstrate that point - consider the
radish.
The radish is an edible,
root
vegetable. It shares the common, Latin "root" of
radical -
"radix." Radicals, then, almost by very definition - are inclined to focus on the primary causes of social and economic injustice -
the roots
. Not content to dither with half-measures and other reformist pablum - for instance, merely restoring Glass-Steagall or overturning the ruling in Citizens United via Constitutional Amendment - radicals seek a comprehensive approach to establishing equanimity in our global community.
In much the same way that so-called "radical surgery" or "radical medicine" addresses the root cause of disease or illness,
radicals
in our contemporary United States and throughout the world seek to address the
root causes
of our current maladies. While radicals may differ in what they define those
roots
to be or what particular arrows from a broad quiver of diversified tactics they choose to employ to address them, what they share in common is a desire to alter or effect the
root itself.
It is only after we reach the third definition in Merriam-Webster that we find even a hint of
radical
as "other" or epithet.This usage seems to be the province of the establishment, the corporatist so-called "reformists" of both American "left" and "right." To wit:
3 a
:
very different from the usual or traditional
But what does it mean to be "different from the usual or traditional?" It could be argued that the
usual
American participates in their democracy in the prescribed way - namely, by diligently doing their duty only insofar as voting when required. But even that is a tenuous argument, considering that in 2010, participation of eligible voters was a mere 38% of the voting-aged population
. And this is not an aberration, as many Democrats claim. Contrary to the Democratic Party forced meme - so-called "progressives" didn't abandon the political process - in fact - mid-term election turnout in the United States has consistently been in the 37-39% range.
Even in 2008, an election many proclaimed to be a watershed moment in American, electoral politics and generally regarded as a fundamentally important "election" for this nation (ed. the are never "important"), voter turnout was a mere 56.8% of eligible voters. While that was the greatest turnout since 1968 - it still represents little more than simple majority of eligible voters.
It would seem, then, that
any participation
in political struggle outside of pulling a lever on Election Day is, itself - by this definition - a
radical
act. Activism and
organizing
is - in contrast to the participatory province of the vast majority of the population - indeed
radically
"different from the usual or traditional" form of political participation. Indeed, the occupation and the ongoing General Assemblies are
radical
in this sense, and our participation in them marks us all as
radicals
in the eyes of the state - and the status quo it serves.
Something happened to many of us when we saw a small, radical band of people Occupying Wall Street. We felt it. We heard the code words, "horizontal," "transparent," "participatory," and so on. We were given the courage to embrace our own radicalism. We were inspired to participate in ways that the vast majority of people don't consider. In short, we were radicalized.
Some of us already were self-described radicals, while many of us seem to be having trouble coming to grips with that appellation. But the truth is - much like the writers of the Port Huron statement were keenly aware:
"We are a minority — the vast majority of our people regard the temporary equilibriums of our society and world as eternally-functional parts. In this is perhaps the outstanding paradox: we ourselves are imbued with urgency, yet the message of our society is that there is no viable alternative to the present. Beneath the reassuring tones of the politicians, beneath the common opinion that America will "muddle through", beneath the stagnation of those who have closed their minds to the future, is the pervading feeling that there simply are no alternatives, that our times have witnessed the exhaustion not only of Utopias, but of any new departures as well. Feeling the press of complexity upon the emptiness of life, people are fearful of the thought that at any moment things might thrust out of control. They fear change itself, since change might smash whatever invisible framework seems to hold back chaos for them now."
The truth is: we're all radicals now. We were radicals the second we closed our laptops and participated in something other than writing a blog. Even if we write reformist piffle when we log back on, we're radicals because we don't just write. We occupy. We engage. We resist. We strike. So embrace it. Love it. We'll all be in the same jail cells and courtrooms (self-described "liberals" and "radicals" alike) - we might as well get to know each other better and understand that - relatively speaking -
OccupyLA is radical. To occupy is fucking radical.